Merv Corning • American (1927-2006)
Lionel 400 E Blue Comet C. 1989 • Watercolor on Paper 28" x 40-1/2"
Canton Museum of Art Permanent Collection • Gift of the artist, 2017.29
 
The words Merv Corning read that day marked the tomb of Sir Christopher Wren, the great architect of St. Paul's. To a curious man the words rang true.
"It makes what we do seem insignificant. Yet it should also remind us that, like Christopher Wren, we are artists, and our reason for being is no less than any gifted person in history. It is what we choose to do with our talent that counts, finally."
Mervin Corning was a gifted child who loved to draw things he saw around Santa Ana, California. Until he could figure out what to do with that talent, he took odd jobs, his favorite being sign-painting for the Hicks Sign Company. He was dazzled by Mr. Hicks' skills and his big, boat-tailed convertible. He also forged his birth certificate so he could drive a Greyhound Bus and pulled the same trick to join the Merchant Marines.
By the time he left the merchant marines, the art world was exploding as European artists fled Nazi hatred of modern art. They turned the world's salons into an abstract cornucopia. But, young Merv Corning didn't follow the academic arc of art. He never even went to art school.
Rather, he took his childhood talent and found work as an advertising illustrator. Eventually he went to work for the Studio Artists Company where he became President and created a memorable series of Aviation Heritage paintings of WWI aircraft. These were prized commissions as Merv loved flying after sharing rides in an old Waco biplane with his father.
INTERESTING STORIES FROM OUR SPONSORS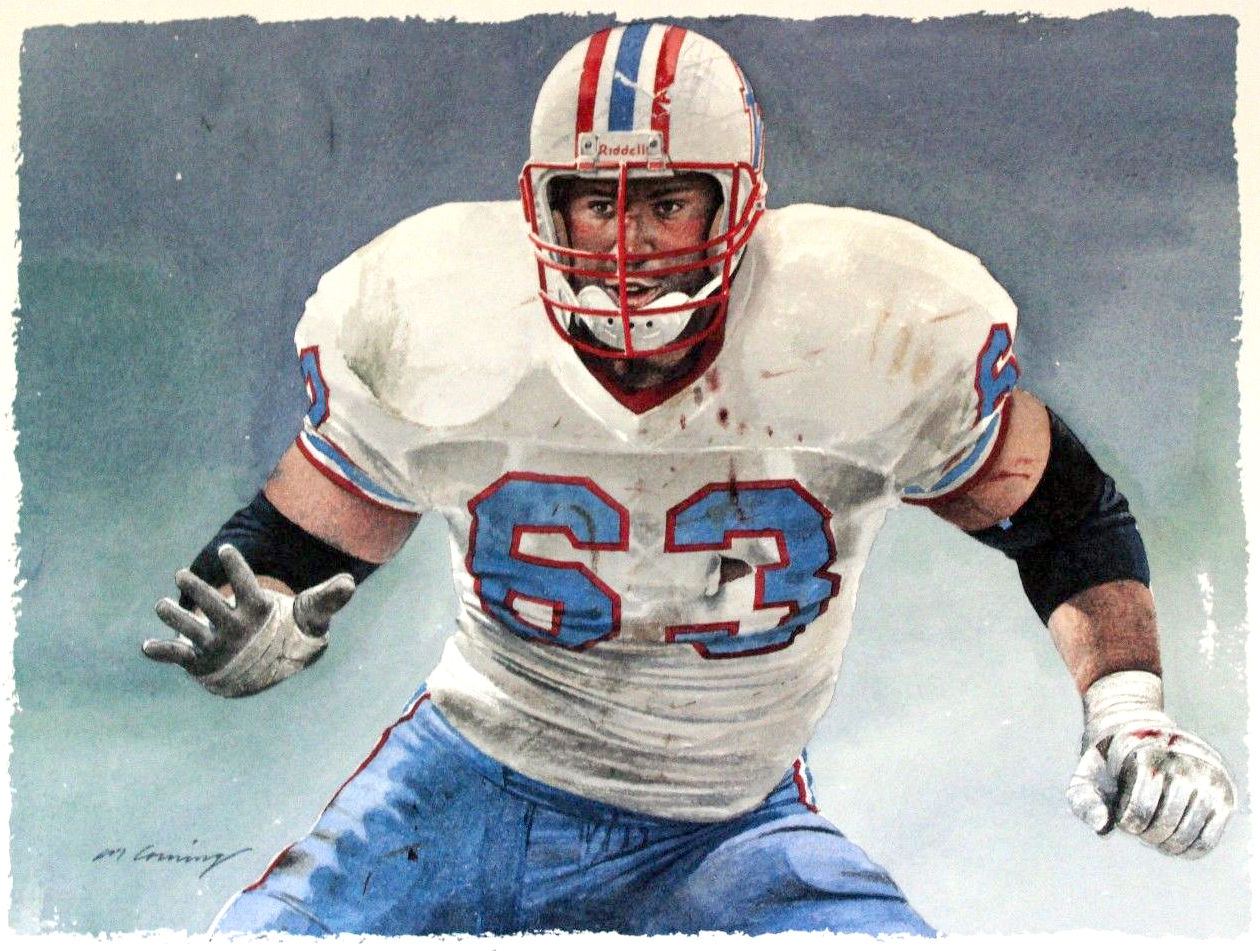 In 1966 Merv met Dave Boss, art director for the National Football League who admired the work he did for the American Automobile Association's Westways Magazine. Something clicked. Over the next four decades Merv completed over 300 portraits and action paintings of NFL players, and even designed 13 watches given to Pro Bowl players.
His work for the NFL led to a 1989 exhibition at the Canton Museum of Art where employees were startled to see a middle aged Merv Corning chasing fireflies through the museum's parking lot. Somehow he never lost his childhood enthusiasm.
Tula, his wife for 38 years remembers a generous man who often gave away engravings of his work to visitors and loved to paint while listening to Blues, Jazz and Sinatra. But she also remembers how he handled the ups and downs of an artist's life. "Is it chicken or feathers this week" he often said. One week in 1970, the answer was "chicken" and he created Tula's favorite memory, a surprise flight to San Francisco to pick up wedding rings.
In the end, like Christopher Wren, it's what Merv Corning chose to do with his talents that counted. He chose to paint the things he loved. Airplanes, trains, football players, dogs and more. If you'd like to see his monuments, come to the Canton Museum of Art and look around you.
4 Ways to Sound Smart When Viewing at The Canton Museum of Art
1.
"The Professional Football Hall Of Fame once sponsored a show of his work at the Canton Museum of Art that ended with Merv running through the parking lot chasing fireflies."
2.
"Over the course of 3 decades, he executed over 300 portraits of NFL players."
3.
"In 1959 he was commissioned to paint 4 WWI airplane scenes for Leach Corp.'s 'Heritage of the Air' series. His were so popular he ended up creating over 10x that number."
4.
"He may well be the most famous painter who never studied art in school."
Merv Corning Timeline. Scroll over images to see timeline.