Willis "Bing" Davis • American B: 1937
Kuba Ritual Box #11 (top) C: 2006 • Stoneware 11-1/4" x 13" x 10"
Kuba Ritual Box #12 (bottom) C: 2006 • Stoneware 8" x 7" x 9-1/2"
America. Africa. Athlete. Artist. Bing Davis is a man who acutely feels the pull of different cultures. Raised by a truck driver and gospel singer he was fascinated by art. His athletic prowess as an All-City basketball player in Dayton, gave him a ticket to study art at DePauw University, sharing classes with future Presidential advisor, Vernon Jordan. While building an acclaimed athletic career that eventually led to his election to the DePauw Hall Of Fame, Davis earned a Bachelor of Fine Arts Degree, and found an interest in Africa, the home of his ancestors.
Imagine a tall, angular African-American kid who moved across the basketball court with uncommon agility and grace. This kid became a man absorbed by art and African culture. His art exhibited the same elegance and grace as he expressed in ceramics, painting, sculpture, and collage.
(story continues below break)
INTERESTING STORIES FROM OUR SPONSORS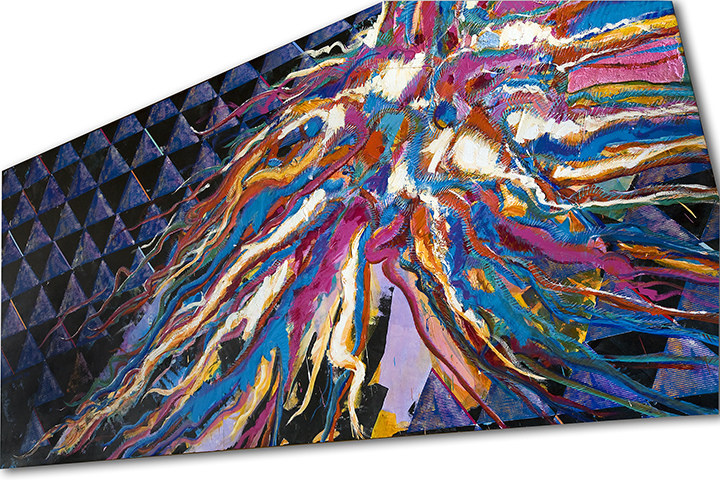 He developed a unique style using common found items like bolts and gears to build African-influenced art, often using traditional masks and icons, You can see the effect in these ceramic pots with decorative African shapes carved into the surface.
Soon this kid from the other side of the tracks saw his artwork installed in American and foreign embassies, prominent museums and collections. Hailed as a cultural leader, Davis now serves as President of the National Council of the Arts (NCA). A man who came of age during the civil rights era, became an educated man and longtime educator in public schools and colleges, alike. Today, Bing Davis is hailed as a civic treasure in Dayton, the city where he was once the most feared basketball player on city playgrounds.
Canton Museum of Art Permanent Collection • Margretta Bockius Wilson Fund, 2006.9 & 2006.10
4 Ways to Sound Smart When Viewing at The Canton Museum of Art
1.
"Bing Davis sure put the 'dumb jock' stereotype to rest. A DePauw University Hall-Of-Fame basketball player, he became a world-renowned artist."
2.
"Ceramics is just one of his prodigious talents. His art also encompassed painting, sculpture, and collage."
3.
"Kuba is an ancient kingdom in Africa's southern savannah region, noted for beautiful textile designs. You can see echoes of these designs in the patterns that wrap around these vessels like ritual cloaks."
4.
"An educated man who became a long-time educator, Davis taught in high schools and colleges before retiring and opening an art gallery in Dayton."
Bing Davis Timeline. Scroll over images to see timeline.